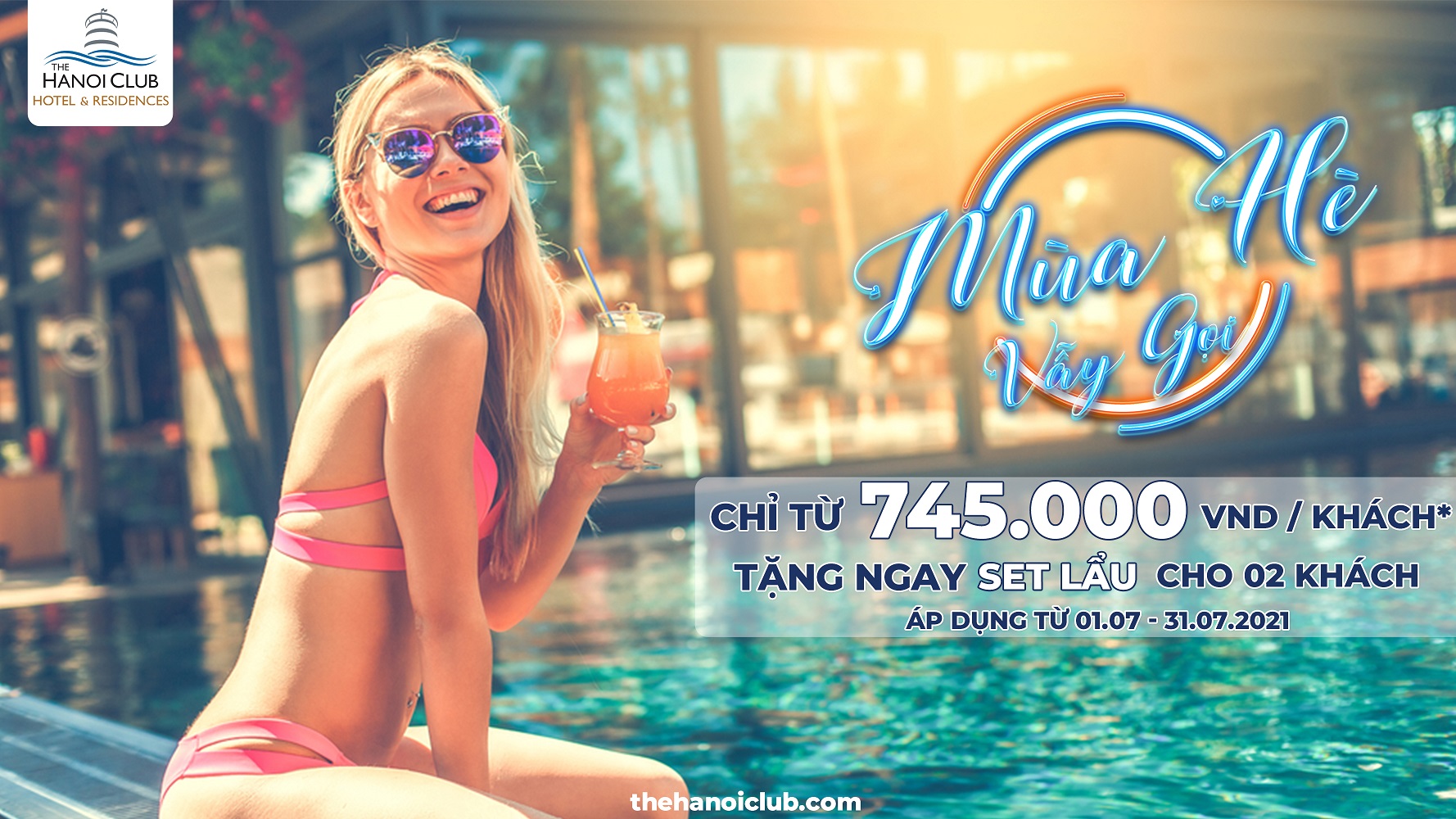 Summer is calling!
(Validity: 01 st July to 31 st July 2021)
ROOM TYPE Promotion rate
Per guest per night
SUPERIOR DOUBLE VND745,000 net
(The rate is inclusive of 10% Government Tax and 5% Service Charge)
BENEFITS:
 02 days 1 night staying at Superior Room for 02 adults with buffet breakfast
 FREE Hotpot Set for 02 adults on Lunch OR Dinner.
 FREE 02 bottles of water
 FREE WIFI internet access in the room and all hotels area.
 FREE early check in at 11:00 AM or late check out at 3:00 PM (subject to availability).
 FREE usages of GYM, Sauna, Jacuzzi Steam and Swimming pool.
 Extend night charge: VND1,100,000 net/ night for double superior room.
 Upgrade fee: VND200,000/ night/ grade of room – VND 500,000/night upgrade to Premier room
 Surcharge weekend: VND200,000/ room/ night
TERM & CONDITION:
 Apply for staying on every weekday & weekend from 01 st July to 31 th Jul 2021, advanced reservation
is required.
 Applied for booking of minimum for 02 pax.
 Payment in advance. The hotel reserved the right to charge 01 night for any No-show & Late
cancellation.
 Cancellation should be made 24-hours prior to 11:00 AM of Arrival day
 Unused benefits are not refundable or exchangeable.
 Not to be combined with other offers or promotions and subject to change at any time.
CHILD POLICY:
 FOC for 01 children under 06 years old (not inclusive of extra bed).
 If the 1 st kid is from 06 years old and sleep with parents will be charged of VND 150,000/ night.
 From the second child (if any) under 12 years old extra bed to be provided with chargeable fee of
VND 400,000/night
 For reservation: Please feel free to contact us at (+84)24 3829 3829 or send email for us
at: enquiry@thehanoiclub.com
Mùa Hè Vẫy Gọi!
(Thời hạn: 01/07/2021 – 31/07/2021)
LOẠI PHÒNG Giá khuyến mãi
VND 745,000/ khách/ đêm
SUPERIOR HƯỚNG PHỐ
(Giá khuyến mãi đã bao gồm 10% thuế VAT và 5%phí dịch vụ)
Quyền lợi khách hàng:
2N1D đêm lưu trú tại hạng phòng Superior
Bữa sáng buffet tại nhà hàng Café Tivoli cho 02 người lớn + 1 trẻ em dưới 6 tuổi ngủ chung với bố mẹ
 Miễn phí 01 set lẩu cao cấp cho 02 người lớn ở phòng khách sạn theo quy định (tùy chọn bữa trưa
hoặc bữa tối).
Miễn phí sử dụng bể bơi ngoài trời và khu vui chơi trẻ em
 Dịch vụ mạng internet, Wifi miễn phí trong toàn khách sạn.
Hai chai nước miễn phí trong phòng
 Miễn phí nhận phòng sớm lúc 11h sáng hoặc trả phòng trễ lúc 3h chiều (Trong trường hợp khách sạn có
phòng trống sẵn sàng)
 Gia hạn thời gian ở với giá chỉ VND 1,100,000/ phòng loại Superior đôi/ đêm
 Phí nâng hạng phòng: VND200,000/ đêm/ hạng – VND 500,000/ đêm để nâng hạng lên phòng
Premier toàn cảnh hồ Tây
Cuối tuần có phụ thu theo quy định: VND200,000/ phòng/ đêm
Thể lệ và điều kiện đặt phòng:
 Áp dụng cho đặt phòng các ngày từ 01/07/2021 đến 31/07/2021. Yêu cầu đặt phòng trước.
 Yêu cầu đặt từ 2 người trở lên
 Yêu cầu thanh toán trước. Khách sạn được quyền phạt 01 đêm nếu khách hàng báo hủy muộn hoặc
không đến sử dụng vào ngày đã đăng ký.
 Hủy phòng phải thông báo sớm 24 tiếng trước 11 giờ trưa ngày nhận phòng.
 Những quyền lợi dịch vụ không sử dụng đến sẽ không được hoàn thành tiền hoặc đổi thành ưu đãi
khác.
 Khuyến mãi này không được sử dụng kèm với các khuyến mãi khác tại cùng thời điểm.
Quy định về trẻ em:
 MIỄN PHÍ 01 trẻ em dưới 06 tuổi (không kê thêm giường phụ).
 Nếu gia đình có bé từ 6 tuổi trở trên và ngủ cùng bố mẹ sẽ tính phụ thu VND150,000net/ đêm
(bao gồm ăn sáng)
 Từ bé thứ 2 (nếu có) dưới 12 tuổi sẽ bắt buộc kê thêm giường phụ với phụ thu lf
VND400,000net/ đêm (bao gồm ăn sáng)
 Để đặt phòng, xin vui lòng liên hệ : (+84)24 3829 3829 hoặc hòm thư điện tử:
enquiry@thehanoiclub.com