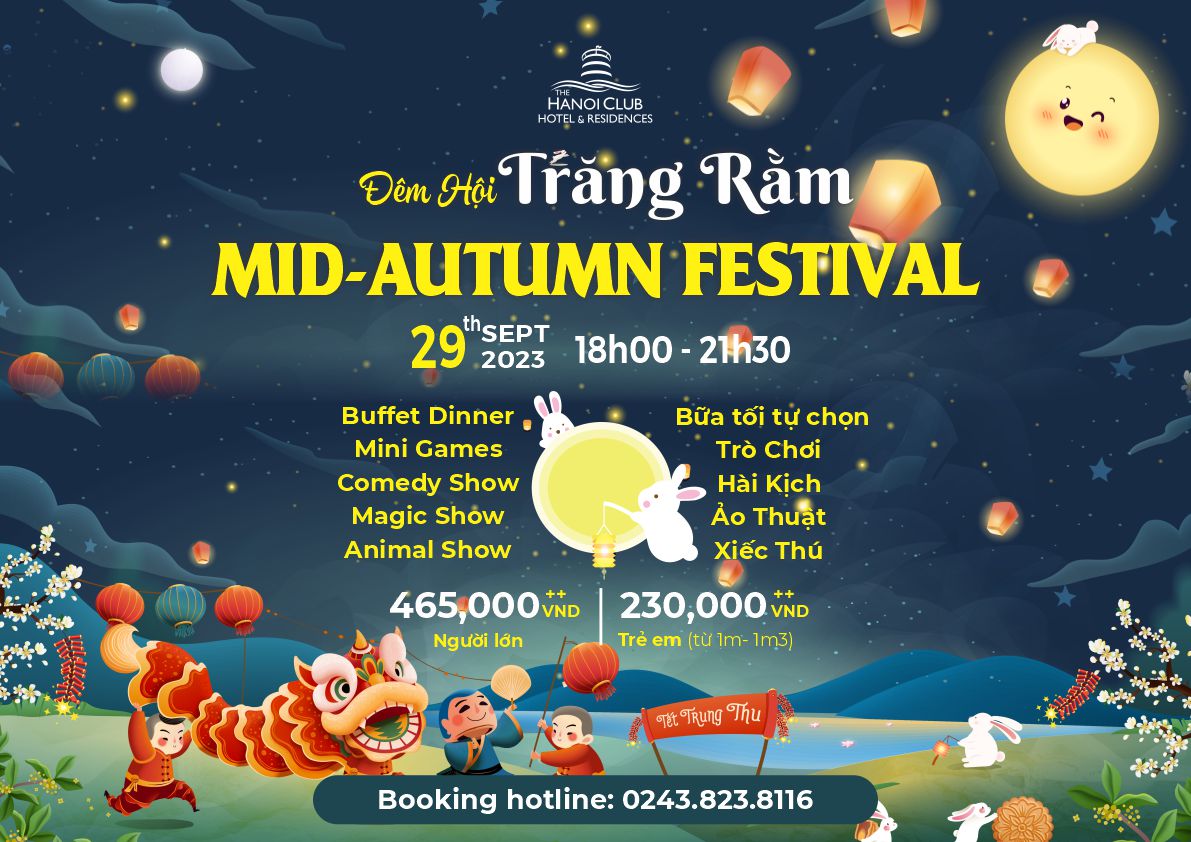 (English below)
Sự tròn trịa của trăng tròn vào dịp Trung thu tượng trưng cho sự đoàn tụ.
Tết Trung thu theo truyền thống là thời điểm để quây quần bên gia đình và cách tốt nhất để làm điều đó là tổ chức một bữa tiệc ngắm trăng. Hãy đến thưởng thức một bữa tiệc thịnh soạn và đón Tết Trung Thu cùng những người thân yêu tại
The Hanoi Club Hotel & Residences
Với bữa tiệc buffet Trung Thu hoành tráng, ngoài vô số món ăn được chế biến bởi các đầu bếp dày dặn kinh nghiệm, bạn và gia đình có thể tận hưởng những điều bất ngờ và hơn thế nữa khi được giải trí bằng các màn ảo thuật / các vở hài kịch / xiếc thú và các games show hấp dẫn.
Hãy đến và thưởng thức vô số món ăn ngon của chúng tôi. TƯƠI, NGON và KHÔNG GIỚI HẠN
Đừng quên đặt bàn qua bằng cách nhắn tin qua FB hoặc gọi trực tiếp tới số 024 3823 8116.
The roundness of the full moon at Mid-Autumn Festival represents reunion.
Mid-Autumn festival is traditionally a time to gather with family and the best way to do that is to have a moon gazing party. Let's come to enjoy a hearty feast and celebrate Mid-Autumn festival with your dears at
The Hanoi Club Hotel & Residences
With a spectacular Moon Festival Buffet, apart from the vast array of cuisine prepared by seasoned chefs, your family can enjoy surprises and more while being entertained by a breath-taking Magic / Comedy / Animal show & Mini games.
Come in and enjoy endless amounts of our delicious food. Fresh, Delicious and Unlimited.
Don't forget to make your booking via FB messengers or calling 024 3823 8116.
𝗙𝗥𝗢𝗠 𝗢𝗨𝗥 𝗛𝗢𝗧𝗘𝗟 𝗧𝗢 𝗬𝗢𝗨𝗥 𝗛𝗢𝗠𝗘
www.TheHanoiClub.com
Enquiry@TheHanoiClub.com
84-24 3823 8116 / 84-24 3829 3829
76 Yen Phu Street, Tay Ho District, Hanoi, Vietnam