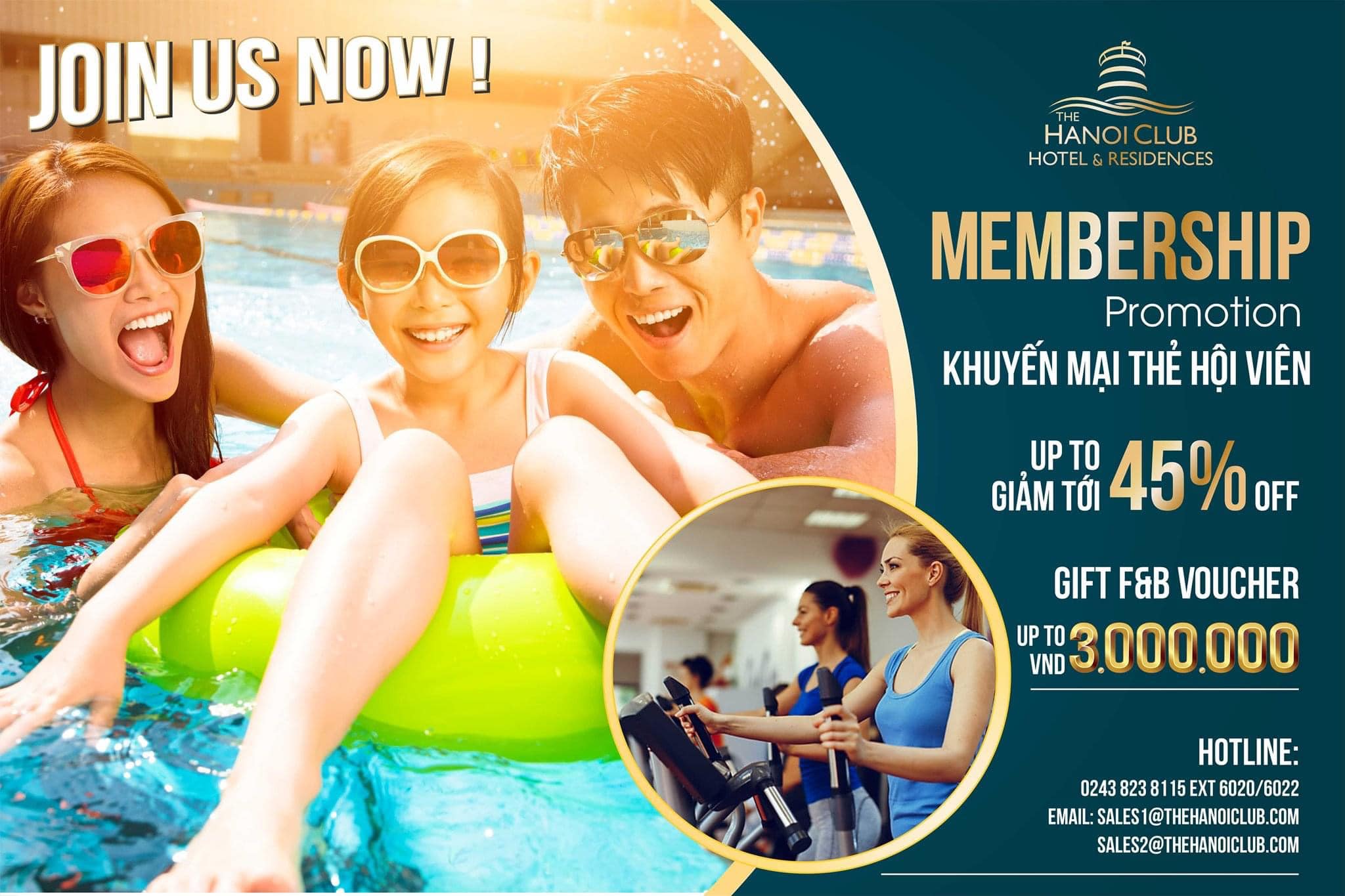 Để cải thiện và duy trì sức khỏe ,tinh thần cũng như thể chất của bạn, tập thể dục thường xuyên và thư giãn là điều cực kì cần thiết. The Hanoi Club Hotel & Residences cung cấp các tiện nghi và thiết bị hiện đại. Với quyền hạn của thành viên khi tham gia, bạn toàn quyền sử dụng trung tâm thể dục của chúng tôi, phòng thay đồ với bể sục, phòng xông hơi khô và phòng xông hơi ướt – bên cạnh đó, bể bơi ngoài trời, sân tennis và sân bóng quần.
Thư giãn trong phòng chờ dành cho thành viên và thưởng thức các món ăn ngon của chúng tôi với các khuyến mại độc quyền dành riêng cho các quí hộ viên khi tham gia.
Để bắt đầu hành trình chăm sóc sức khỏe của bạn, hãy liên hệ với chúng tôi.
JOIN US NOW! – UP TO 45%
To improve and then maintain your physical and mental health and well-being, regular exercise and relaxation are essential. The Hanoi Club Hotel provides access to state of the art facilities and equipment in air-conditioned rooms. This membership allows you to enjoy full access to our fitness centre, a locker room with jacuzzi, sauna and steam — besides, outdoor swimmingpool, a tennis court and a squash court.
Relax in the Members lounge and enjoy our delicious food with exclusive only for our member promotions.
To start your wellness journey off, please contact with us via fb messenger or send email to us.
𝗘 𝗡 𝗝 𝗢 𝗬 𝗬 𝗢 𝗨 𝗥 𝗦 𝗧 𝗔 𝗬 𝗪 𝗜 𝗧 𝗛 𝗨 𝗦
www.TheHanoiClub.com
Enquiry@TheHanoiClub.com
84-24 3823 8115 / 84-24 3829 3829
76 Yen Phu Street, Tay Ho District, Hanoi, Vietnam