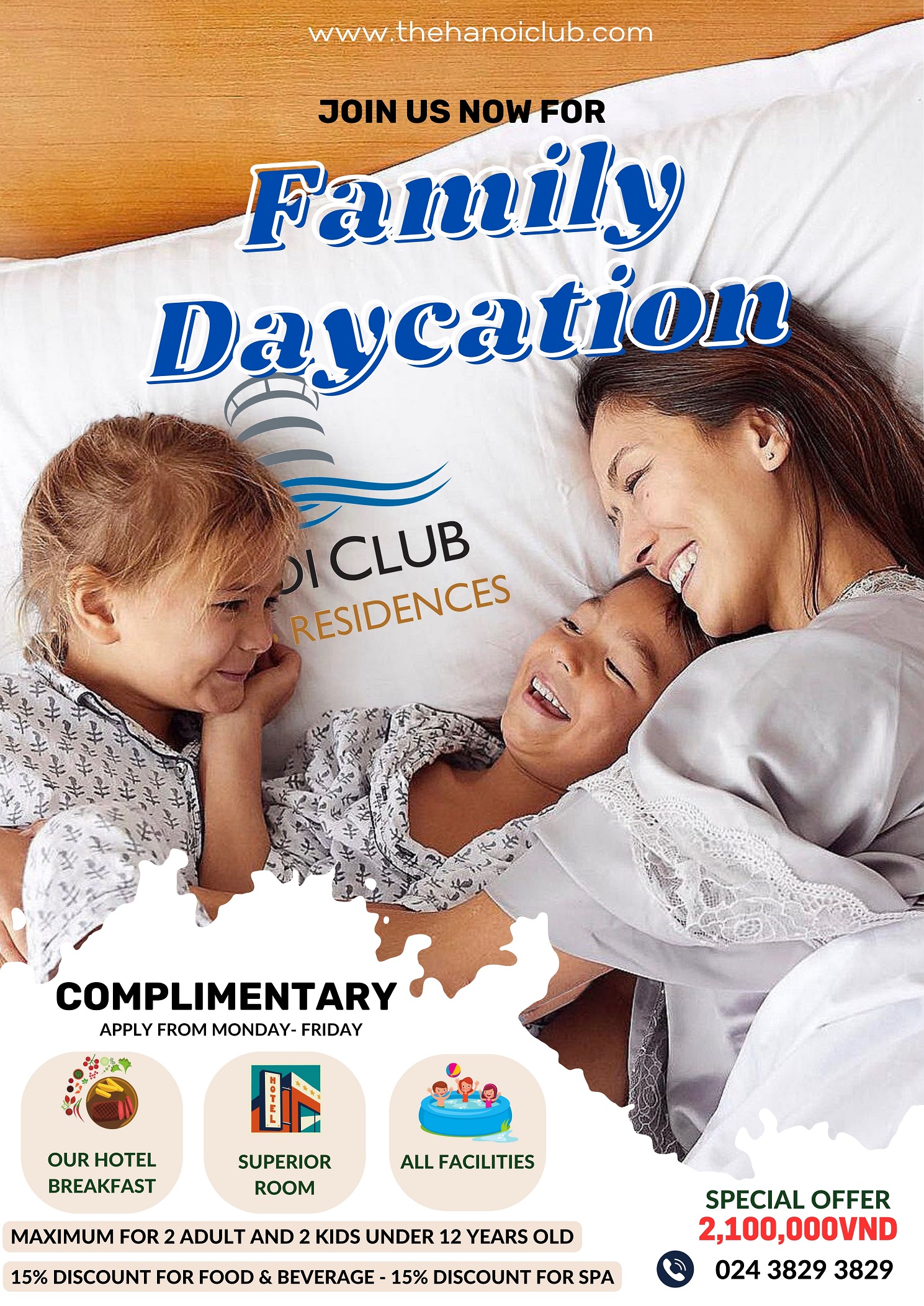 DAYCATION
SPECIAL OFFER –  VND 2,100,000 
Make time for great outdoor. Every day, we make deposit in the memory bank of children.
Enjoy a memorable day in the comfortable room. Our Family Day Use package includes breakfast and fun activities outdoor creating a perfect day to remember!
————-
Dành thời gian cho hoạt động ngoài trời tuyệt vời. Mỗi ngày, chúng tôi gửi vào ngân hàng ký ức của trẻ em.
Hãy tận hưởng một ngày đáng nhớ trong căn phòng tiện nghi. Gói Sử dụng trong Ngày dành cho Gia đình của chúng tôi bao gồm bữa sáng và các hoạt động vui chơi ngoài trời để tạo nên một ngày hoàn hảo đáng nhớ!
𝗘 𝗡 𝗝 𝗢 𝗬 𝗬 𝗢 𝗨 𝗥 𝗦 𝗧 𝗔 𝗬 𝗪 𝗜 𝗧 𝗛 𝗨 𝗦
www.TheHanoiClub.com
Enquiry@TheHanoiClub.com
84-24 3823 8115 / 84-24 3829 3829
76 Yen Phu Street, Tay Ho District, Hanoi, Vietnam
Để biết thêm thông tin chi tiết, vui lòng liên hệ +84 24 3823 8115/ +84 24 3829 3829 hoặc email
sales1@thehanoiclub.com