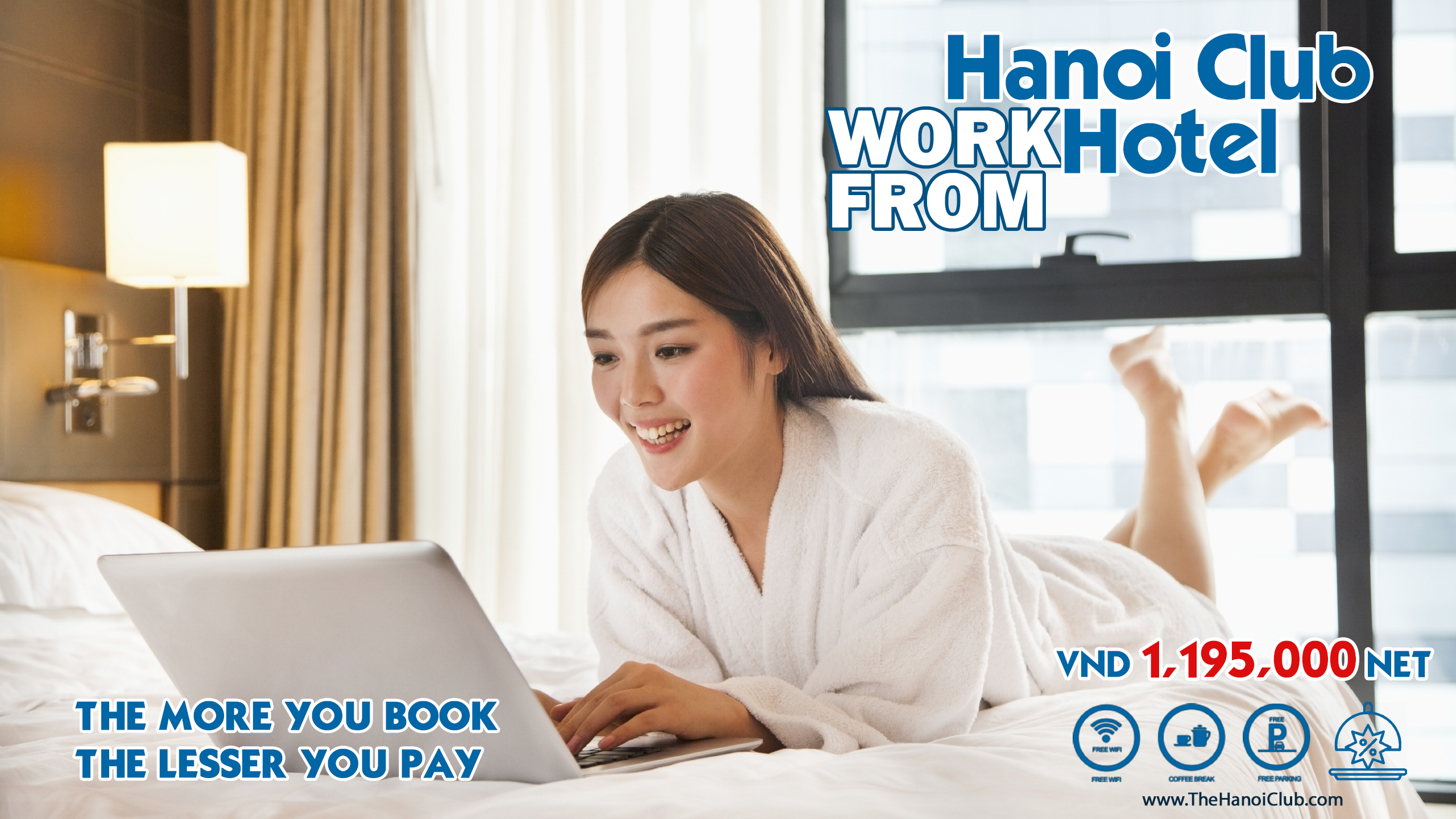 COVID is spreading out there but Life still goes on!!!
Tired of working from home with poor internet Speed?
Why not try to work from The Hanoi Club Hotel for instead?
Understanding that working from home every day can be challenging.
Achieve a balance between a work and home life with a deal designed to remote working.
A chance of scene & no interruption.
We offer a guaranteed sanitized & clean room where you can stay and keep focused to finish your deadline task.
It's time to close the distance and reconnect with workspace at The Hanoi Club Hotel
Package options
• Daily Rate VND 1,195,000 net/ room
Benefits
• High speed internet
• Free 01 car/ motorbike parking lot
• Complimentary tea/coffee sachets in the room.
• Free mini bar in room (Mini-bar included beer, soft drink, instance noodle, snacks, cookies & nuts)
• Complimentary 02 bottles of drinking water per day per room
• 20% discount for unlimited F&B orders (not valid for promotion items)
• 15% discount for room service (not valid for promotion items)
• Special fee for room upgrade
• Printing and business center services available at Front Desk on request*
Terms & Conditions:
• Usage of superior hotel room from 08:00 hr – 17:00 hr (Mon – Fri).
• Maximum 02 persons per room.
• Body temperature measuring and hands sanitizing are compulsory upon check-in.
• Medical declaration is requested on the first day of each session.
• All prices are included 5% service charge & 10% VAT.
• Not applied with other promotions.
𝗘 𝗡 𝗝 𝗢 𝗬 𝗬 𝗢 𝗨 𝗥 𝗦 𝗧 𝗔 𝗬 𝗪 𝗜 𝗧 𝗛 𝗨 𝗦
www.TheHanoiClub.com
Enquiry@TheHanoiClub.com
84-24 3823 8115 / 84-24 3829 3829