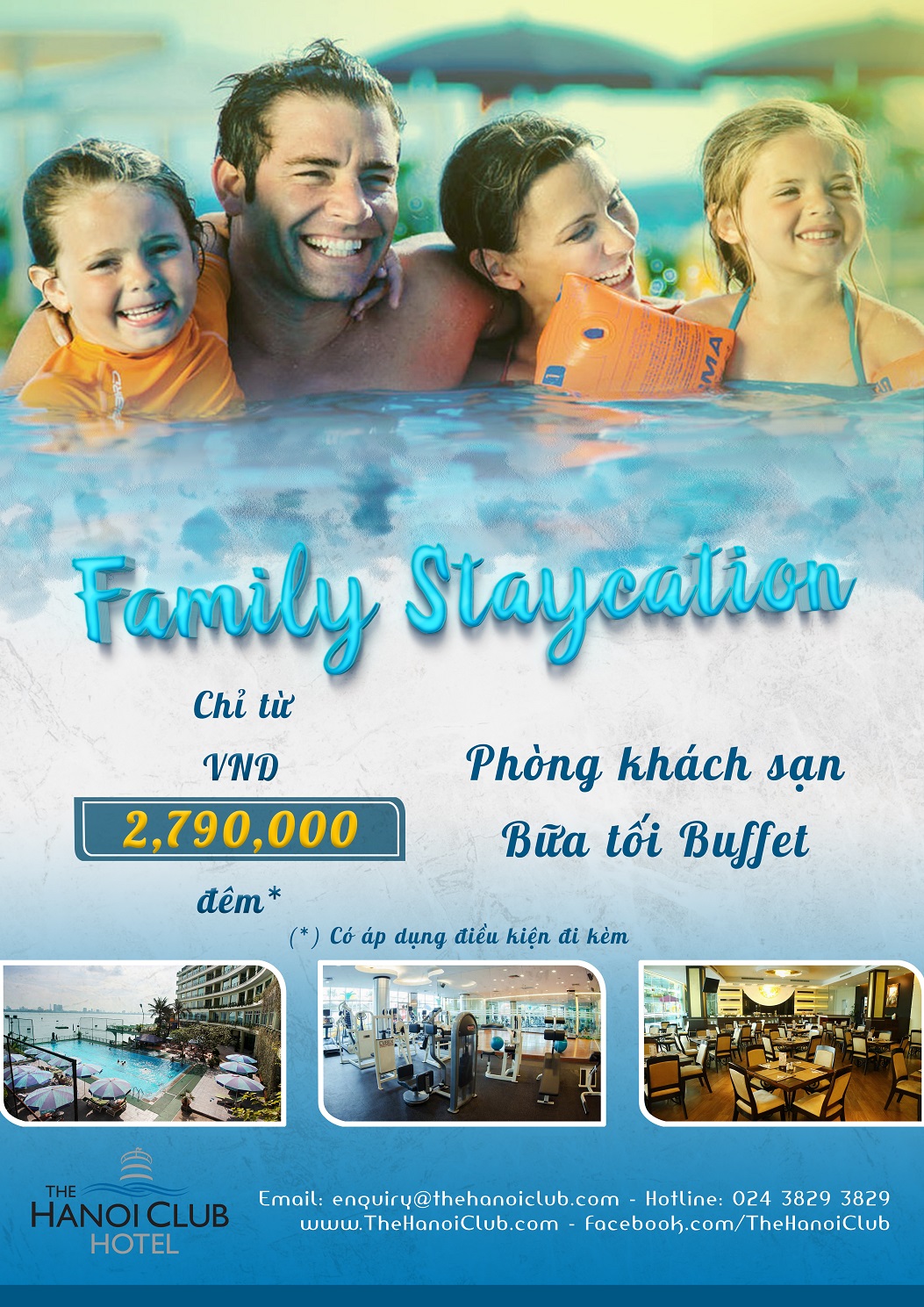 FAMILY STAYCATION
(Validity: 01st to 30th April 2019)
ROOM TYPE
Promotion rate
Double/twin room per room per night
SUPERIOR CITY VIEW
VND  2,790,000nett
DELUXE PARTIAL LAKE VIEW
VND 2,990,000nett
SIGNATURE/ STUDIO CITY VIEW
VND 3,190,000nett
PREMIER LAKE VIEW
VND 3,390,000nett
GRAND PREMIER LAKE VIEW
VND 3,590,000nett
 (The rate is inclusive of 10% Government Tax and 5% Service Charge)
Benefits:
Daily buffet breakfast at Tivoli Restaurant from 6am to 10am.
FREE Saturday BBQ buffet dinners for registered guests.
Welcome drink upon check in at Arena Bar from 5:00 – 8:00PM
Free all mini bar items in room
FREE WIFI internet access in the room and all hotels area.
FREE early check in at 11am or late check out at 3pm (subject to availability).
FREE usages of GYM, Sauna Jacuzzi Steam and Swimming pool
Term & Condition:
Apply for staying on every weekend from 1Apr to 30 Apr, 2019, advanced reservation is required.
Valid for Vietnamese residents and foreigners with long term resident card.
Not to be combined with other offers or promotions and subject to change at any time.
Extension stay: From VND 2,000,000nett/room/night.
Child Policy:
Maximum 02adults, and 02 children up to 12 years old (not inclusive of extra bed)
For the second child (if any) under 12 years old extra bed to be provided with chargeable fee of VND 500,000/night
For reservation: Please feel free to contact us at +844 3829 3829 |Ext: 6020 or send email for us at: enquiry@thehanoiclub.com
DU LỊCH TẠI CHỖ CÙNG GIA ĐÌN
   (Thời hạn: từ 1/4 đến hết 30/4/2019)
Loại phòng
Giá khuyến mãi
Phòng đôi/đêm
SUPERIOR HƯỚNG PHỐ
VND  2,790,000nett
DELUXE 1 PHẦN HƯỚNG HỒ
VND 2,990,000nett
SIGNATURE/ STUDIO HƯỚNG PHỐ
VND 3,190,000nett
PREMIER HƯỚNG HỒ
VND 3,390,000nett
GRAND PREMIER HƯỚNG HỒ
VND 3,590,000nett
(Giá khuyến mãi đã bao gồm10% thuế VAT và 5%phí dịch vụ)
Quyền lợi khách hàng:
Ăn sáng buffet tại nhà hàng Café Tivoli từ 6h -10h sáng.
Miễn phí buffet Nướng vào tối thứ Bảy cho những thành viên đăng kí ở phòng khách sạn theo quy định.
Đồ uống chào mừng ngày nhận phòng từ 5:00 – 8:00 tối tại quầy bar Arena.
Dịch vụ mạng internet, Wifi miễn phí trong toàn khách sạn.
Miễn phí nhận phòng sớm lúc 11h sáng hoặc trả phòng trễ lúc 3h chiều (Trong trường hợp khách sạn có phòng trống sẵn sàng)
Miễn phí đồ ăn nhẹ và uống mỗi ngày.
Miễn phí sử dụng bể bơi, phòng tập, phòng xông hơi
Thể lệ và điều kiện đặt phòng:
Áp dụng cho đặt phòng vào các ngày thứ Bảy trong thời gian từ 1/4/2019 đến 30/4/2019. Yêu cầu đặt phòng trước.
Chỉ dành cho các khách Việt Nam và những khách nước ngoài được cấp thẻ tạm trú dài hạn.
Khuyến mãi này không được sử dụng kèm với các khuyến mãi khác tại cùng thời điểm.
Gia hạn thời gian ở với giá từ VND 2,000,000/ phòng Superior/đêm
Quy đặt phòng cho trẻ em:
Tối đa 2 người lớn và 2 trẻ em dưới 12 tuổi (không kèm giường phụ)
Trẻ em thứ 2 (nếu có) sẽ được ngủ ở giường phụ của khách sạn bố trí với phí giường chỉ VND 500,000/đêm